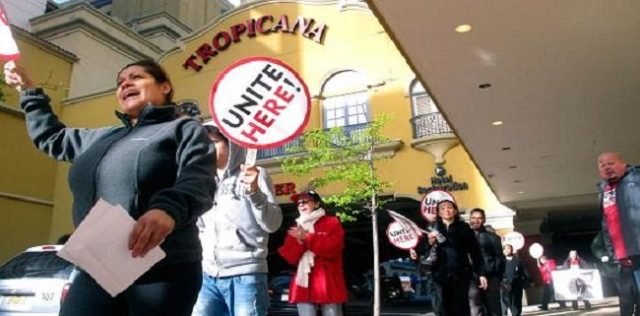 The workers of top four Las Vegas casinos voted to authorize the strike on Thursday, if they are not offered a fair contract before busy July 4. The strike vote could empower Unite Here 54 bargaining committee, which is negotiating over new contract for the 6,000 cocktail workers/servers, cooks and other hospitality workers.
Not to forget those employees are not currently working with their expired contract and they are demanding new contracts from the management.
After casting his vote Bob McDevitt,"Local 54 President "said that they need to offer these workers a fair contract, they need to give us back, what we have given to them in their bad or recession time, he added. He also said that every vote casted on Thursday (it was almost 96%) was in support to authorize the strike.
It is good to mention here that four out of 12 New Jersey casinos were closed back in 2014 because of close competition from neighboring states. Unite Here said that workers are agreed to raise in their wages. The workers now wanted something good for themselves, because the recession is over of the casinos in the Atlantic casinos.
The report says that Revenue of Atlantic city casinos has grown up by 2.7% to $802.6 million in first quarter of the year 2016, and it is expected to grow more in upcoming months of the year.
Workers of one of the four closed casinos of Atlantic city i.e. Trump Taj Mahal  were also agreed to allow a strike in last summer. Most of the casino workers and buffet drink servers are not pleased with their wages. Some says that it is just $10 an hour after working almost two decades, which definitely not acceptable.