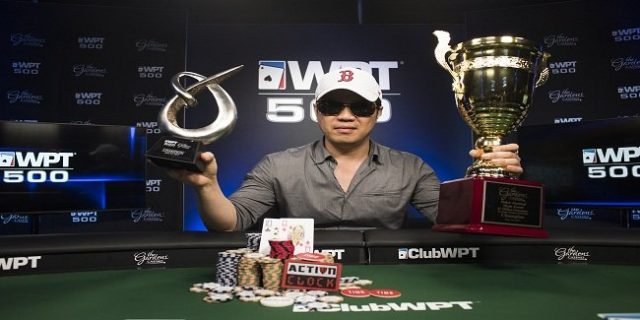 Dong Le, a pro casino player and a 20 years from Boston, Massachusetts, United States has won the first ever WPT500 Los Angeles. He pocketed a sum total amount $224,500 from the tournament being victorious. The tournament received 3,266 entries from various parts of the world and mainly United States and generated a huge lot of money as total prize pool.
Another player known as Owen Crowe became the runner-up of this event, who pocketed his winning share of amount $130,000 from the title, while third position of this particular world poker tour tournament belongs to a pro poker player named Peter Hengsakul, who collected $100,000 being third.
The first player busted from the final table of top nine players was Greg Roberts of America. He busted to ninth place for a total winning share of amount $21,000. Greg Roberts busted to the #17th hand of the final table. No player hit the rail till 16th hand of the match.


After just two hands a player known as Alex Fayneshteyn busted to eighth place. He collected $28,000 from this world poker tour title.
 Another player hit the rail at #25th hand of the final table and it was Mike Eskandari, who made $36,000 from the tournament for his seventh place.
Deepinder Singh hit the rail to 32nd hand for a total winning share of amount $49,000, while IIla shpiner hit the rail to 34th hand for a total winning share of amount $65,000 for fifth place.
Fourthy, third and seeond positions of the tournament belongs to players such as Richard Tae Kim, Peter Hengsakul and Owen Crowe and they pocketed $81,000, $100,000 and $130,000 respectively from the match.
WPT500 Los Angeles Final Table Results
1st: Dong Le – $224,500
2nd: Owen Crowe – $130,000
3rd: Peter Hengsakul – $100,000
4th: Richard Tae Kim – $81,000
5th: Ilya Shpiner – $65,000
6th: Deepinder Singh – $49,000
7th: Mike Eskandari – $36,000
8th: Alex Fayneshteyn – $28,000
Up to $1,000 Bonus, 97.98% Payout
PLAY
Review
250% to up to $12,500 Bonus +70 Spins
PLAY
Review
Up to $5,500 Welcome Bonuses
PLAY
Review
$38 Free+250% Bonus
PLAY
Review
Bonus of 300% to Up to $3,000
PLAY
Review
98.04% Payout, 200% +25 Free Spins
PLAY
Review

Up to $8,888 Bonus+350 Free Spins
PLAY
Review
Up to $7,777 Free Bonus
PLAY
Review
200%+100 Free Spins
PLAY
Review
350% Bonus + 50 Free Spins
PLAY
Review
250% to Up to $2,500
PLAY
Review
200% Match to up to $5,000
PLAY
Review
Up to 250% Bonus+70 Free Spins
PLAY
Review
$38 Free + 250% Bonus
PLAY
Review
$1,000 Bonus+ 100 Free spins
PLAY
Review
100 Free Spins+2,500 Bonus
PLAY
Review
300% to up to $1,000
PLAY
Review
$800 Match Bonus
PLAY
Play
$400 to up to $4,000
PLAY
Review
200% Match + 7 Different Bonuses
PLAY
Review
200% to up to $5,000
PLAY
Review


100% to $747

PLAY
Review