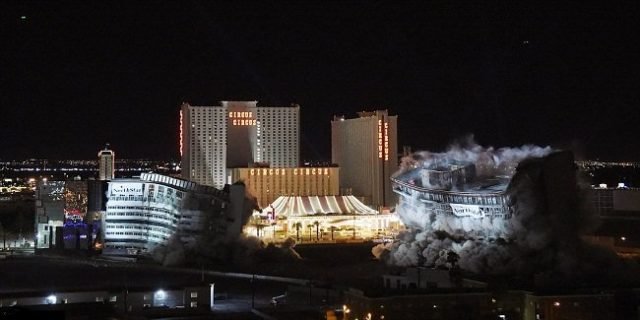 The most visited casino of Las Vegas Strip i.e. Riviera casino was finally demolished in the early morning hours of Tuesday 16th August 2016. That means, it is an end of era of, one of the most famous casino and Hotel of the strip. The final tower being demolished now, however the casino was closed in May, 2015.
The demolition process of this casino took place around 2 am, which made the Riviera's Monte Carlo tower crashing to the ground.
The property which included 2,075 rooms in it was closed last year in May 2015 after 60 years hosting headliners from Liberace to Dean Martin. Plenty of movies were also been shot at that grand casino place.
The new owner of this casino is the Las Vegas Convention and Visitors Authority (Tourism department, which bought the 26 acres property last year for $182.5 million). The department now wants an expansion of the Las Vegas Convention centre. The expansion of the convention centre is expected to be on ground by January.
When the imposition started taking place, a small crowd began gathering on the strip to witness the implosion of the 17th story Monte Carlo tower, which was built in 1955.
One of the eye witness said that "this is like history right here in front my eyes". The property was a bit weird compared to other casino/Hotels and properties of the Las Vegas Strip, he said.
As mentioned, the Casino was opened way back in 1955, and was taken over by former managers of flamingo hotels.
Most of the casinos opened with Riveria casino have been long gone and only a couple such as Tropicana and Flamingo Hotel and casino are in business.
Meanwhile, the Flamingo Hotel is been re built completely but Tropicana is still the same as it was before.